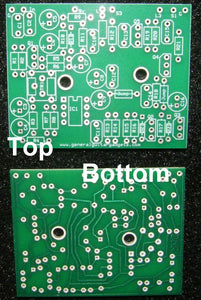 ROSS COMPRESSOR REPLICA RTS PCB
The RTS (ready-to-solder) Printed Circuit Board for the MXR™ Dynacomp™ or Ross™ Compressor Replica. The PCB dimensions are 6.0cm by 4.8cm. PCB has solder mask, plate-through holes and screen print for placement of components. Jumpers are included in the top layer, so there is no need to solder in any jumpers.
Click here for complete instructions for the Ross™ Compressor.