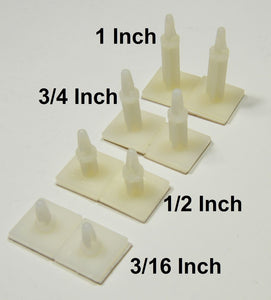 3/16 inch PCB Standoff
This is a clip-on stand-off that has a "peel-off foam tape sticky" base that is used to attach our PCBs to an enclosure surface.  We have many stompboxes here at the shop that are over 15 years old that use these standoffs, and they are still holding strong, even after a decade and a half! 
3/16" is the only one available at this time.  3/16 is the size of the ones that come standard in our kits.  We are working to get they taller lengths back in stock.
Photo shows them in pairs, the pricing here is price for each single standoff.