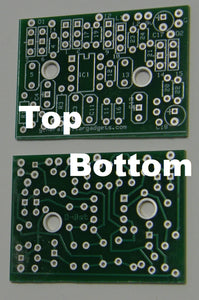 DUAL BOOST RTS PCB
Dual Booster Ready-To-Solder Printed Circuit Board. This PCB can be used in a variety of applications. Anywhere where you need a Boost stage or two, this small PCB will be of service. The circuit board holds two complete and separate booster circuits with options for various booster configurations. Some examples are:
Clean Booster Stompbox
Non-Inverting or Inverting Stages
Gain Stages in a Looper Switch Box
Building a Blender Switch Box
Reverb Tank Driver and Recovery
Active Direct box
Polarity Switcher - Inverting/Non-Inverting switching with an On/On Toggle Swtich
Many More Uses!
The PCB dimensions are 4.5cm by 3.2cm. PCB has solder mask, plate-through holes and screen print for placement of components.
Click here for specifications, instructions and examples of uses for this PCB.