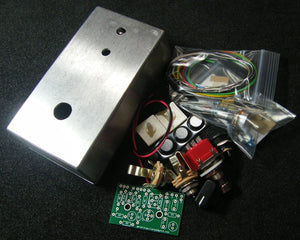 DALLAS ARBITER RANGMASTER REPLICA COMPLETE KIT
This treble boost kit can build a Dallas Arbiter RangeMaster type treble booster. The kit does not include a germanium transistor, so if you want one, you will have to source the Germanium transistor yourself. The kit does include the silicon transistor for a PNP or NPN silicon transistor Range Master and includes all the parts and materials you need to build either, including the PCB. Click here for more general information about the kits.
Click here for complete instructions for this kit.
---
Here are the specification data sheets for the enclosure options for this kit.