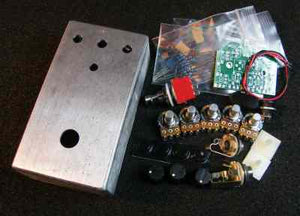 COLORSOUND™ TONEBENDER™, 3 KNOB REPLICA COMPLETE KIT
The kit contains all the parts to make a great sounding NPN silicon transistor version of a ColorSound™ Tone Bender™ 3 knob Version. If you want to build a germanium transistor version, you can get your own germanium transistor set ( Small Bear carries them) and you can use them with this kit. The kit includes transistor sockets to make it easy to add your germanium transistors to the kit if you would like. the kit includes all the parts for the following versions listed on the project page, except for the germanium transistors for the germanium transistor versions.
ColorSound 3-Knob Tone Bender with PNP Germanium Transistors (Positive Ground)

ColorSound-like 3-Knob Tone Bender with NPN Germanium Transistors (Negative Ground)

ColorSound-Like 3-Knob Tone Bender with NPN Silicon Transistors (Negative Ground)
Transistor sockets, the PCB and all the parts you need are included. Click here for more general information about the kits.
Click here for complete instructions for this kit.
See a YouTube Video Demo of the Boutique Version
Here are the specification data sheets for the enclosure options for this kit.