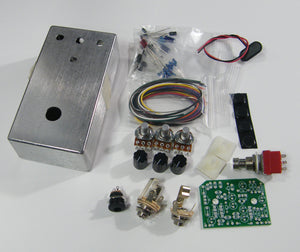 AMPEG SCRAMBLER REPLICA COMPLETE KIT
This a replica of the classic vintage Fuzz/Octave device. Includes all the parts and materials you need to build one, including the PCB. This kit also has an important modification to allow for a volume contol. This makes it super versitile and can be used for boost, including a clean boost. The additional boost stage does not alter the great sound of the original Scrambler. Click here for more general information about the kits.
Click here for complete instructions for this kit.
---
Here are the specification data sheets for the enclosure options for this kit.