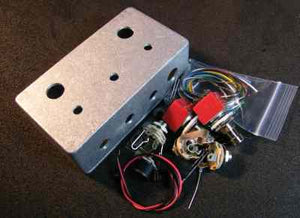 A/B/Y SWITCH BOX COMPLETE KIT
This is the A/B/Y Switch Box complete kit. Includes all the parts to build a simple, passive 2 channel switcher. There's a switch to chose between A and B channel and another switch to switch to both channels at the same time ("Y"). This kit has 3 LED indicators. When you are in "Y" mode you can still see what channel you will be on when you switch out of "Y" mode. Click here for more general information about the kits.
Click here for complete instructions for this kit.
---
Here is the specification data sheet for the enclosure option for this kit.