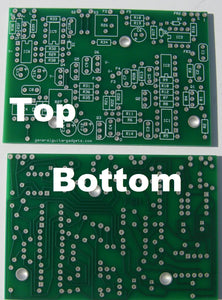 MAESTRO FILTER SAMPLE/HOLD REPLICA RTS PCB
The ready-to-solder PCB for the Maestro Filter Sample/Hold Replica. The PCB dimensions are 8.5cm by 6.0cm. PCB has solder mask, plate-through holes and screen print for placement of components.  Very similar to the original PCB layout except much smaller with off-board wiring to pots and switches for more versatile use.  Uses single opamp ICs, (741 opamps) as the originals used.
Click here for complete instructions for this PCB.
Any trademarks mentioned here belong to their rightful owners and do not belong to General Guitar Gadgets.