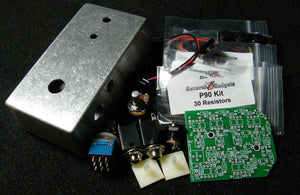 MXR™ PHASE 90™ REPLICA COMPLETE KIT
Includes all the parts and materials you need to build a Phase 90 (Script Logo version), including the PCB.  Includes a matched set of JFET transistors selected for the best sound possible. This is a very cool phase shifter with a beautiful, rich sound.    Click here for more general information about the kits.
Click here for complete instructions for this kit.
Warning:  This kit is NOT for beginners or inexperienced builders.
Due to the size and shape of the PCB, this kit is only available with 1590B (small) enclosure (or the kit with no enclosure).