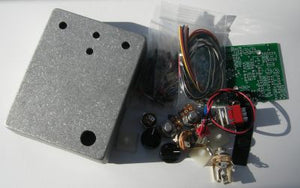 MAESTRO FILTER SAMPLE/HOLD REPLICA KIT
This is a synthesizer Voltage Controlled Filter module (envelope filter) and a Sample & Hold module all in a stompox suitable for guitar (and other instruments).This is exactly the same circuit as the Oberheim Voltage Controlled Filter. It should be noted that the Sample/Hold works best on sustained sounds, so use with a compressor or heavily sustained guitar sounds is recommend.  Any trademarks mentioned here belong to their rightful owners and do not belong to General Guitar Gadgets. 
The kit includes all the parts and materials you need to build one, including the PCB. Click here for more general information about the kits.
Click here for complete instrucionts and information to build this kit.
---
---
Here is the specification data sheet for the enclosure option for this kit.