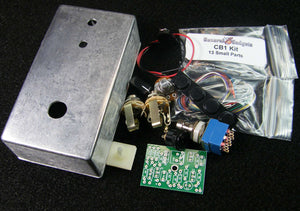 EHX LPB2 REPLICA COMPLETE KIT
This kit is a Vintage Electro-Harmonix LPB2 Replica. Includes all the parts and materials you need to build one, including the PCB. It is a great sounding simple, clean booster.   Any trademarks mentioned here belong to their rightful owners and do not belong to General Guitar Gadgets.
Click here for more general information about the kits.
Click here for complete instructions for this kit.
Here are the specification data sheets for the enclosure options for this kit.